Kioskiosk by Wayne Hemingway
Design Museum and Beefeater 24 present "Super Contemporary"
3 June - 4 October 2009
Vision for the city of London by Zaha Hadid. Gone with the Wind by Ron Arad.London Transport by Tom Dixon. Bus Shelter by David Adjaye.
Listening Station by BarberOsgerby. Freedom Space by Neville Brody. Batterseum by Nigel Coates. Rain It In by Paul Cocksedge. Horatio's Garden by El Ultimo Grito with Urban Salon. Thames Pin by Kit Grover.
K9 Post Office Kiosk by Industrial Facility. Lamp Post Chandelier by Thomas Heatherwick. KiosKiosk by Wayne Hemingway. Head to Toe by Ross Phillips. New London Rubbish Bin by Paul Smith.
Celebrate London design past, present and future with Super Contemporary.
See 15 exciting commissions from some of London's most dynamic creatives including Paul Smith's New London Rubbish Bin, situated in Covent Garden and Holland Park.
Or take a snapshot of your body and become part of the exhibition at one of the Head to Toe booths by Ross Phillips in Covent Garden, Idea Store Whitechapel, and Selfridges & Co, London.
Check the website for news of The 24 Events to accompany the exhibition.
Communiqué de presse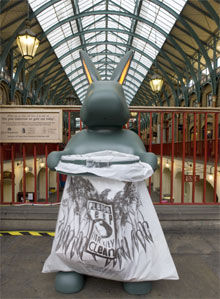 New London Rubbish Bin, Covent Garden
By Paul Smith
Photo Luke Hayes